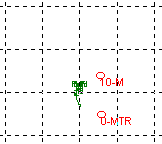 Open-field non-differential GPS-48 track plot
(1024 points) without S/A. Only 4 x 4 meters!
The grid .0001 degrees per division
14 months after Wakulla II ended, Selective Availibility was turned off for good. This plot, made with a 12 channel parallel receiver hints that one may now achieve 4 meter accuracy without differential correction! The eyeball average of this plot gives exactly the same UTM position (1 meter resolution) as the receiver's internal Waypoint averaging function. The GPS-48 reported a FOM (Figure Of Merit) for this averaged waypoint of ±13.9 feet (4.2 mtrs). The FOM appears to be a realistic estimate of actual precision of the fix. The differential data does correct for ionospheric variations and timing/position errors from each satellite, but with a plot this small............Current wisdom is that real time accuracy without S/A is 10 meters horizontal accuracy, one minute of averaging (1 fix/2 sec) gives 5 meters, and 10 minutes of averaging gives 4 meters. With DGPS, expect 8 meters without averaging or 3 meters (or better depending on the GPS receiver and data rate) with 10 minute averaging.
A note for Garmin users: To increase accuracy by averaging (at a fixed location) simply press MARK, select Average, then press ENTER. The FOM will become visible. Do not look at any other screens while averaging! When the FOM has stabilized, simply write down the fix and FOM. It can also be saved as a numbered waypoint (to be renamed later) by selecting Save, then pressing ENTER. In the forest, where the track plot and FOM are larger, it will pay to average for a longer time, perhaps 10-15 minutes. UTM grid coordinates give the best resolution, and are the easiest to plot and work with.. You get 1 meter resolution with UTM, 1.9 meters with DD mm.mmm, and 3.1 meters with DD mm ss.s.